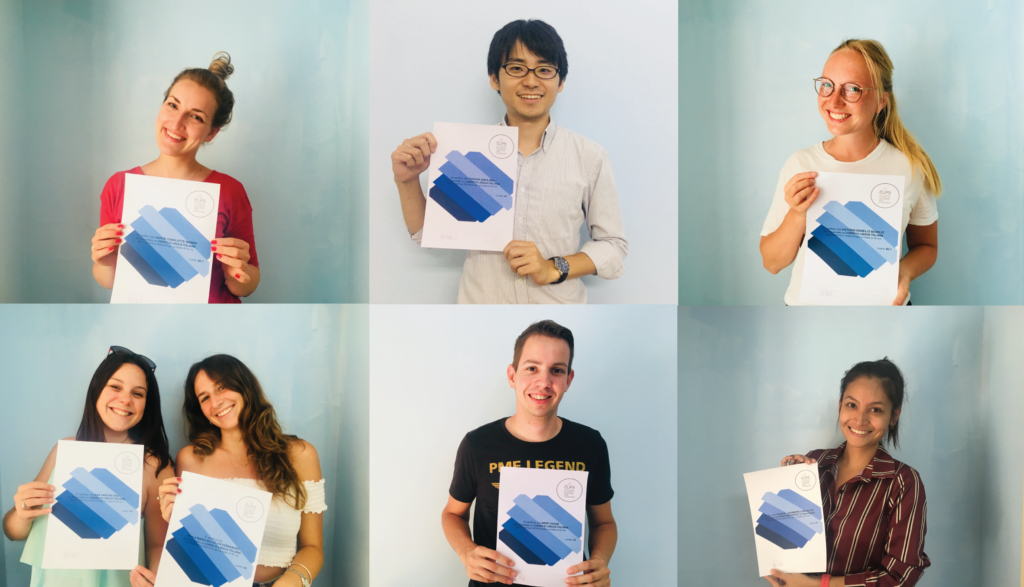 NaClips
Average rating:
41 reviews
Oct 22, 2019
Corso privato
Een week privé les gehad van Anna bij NaClips! Het was ontzettend zinvol, professioneel & ook nog gezellig. Met Anna voelde het alsof ik les had van een vriendin. Ik voelde mij zeer op mijn gemak!

Una settimana lezioni privati con Anna era un grande successo! Anna era e molto gentile e professionale.

Grazie mille Rita e anche Anna! Speriamo ci vediamo presto.
Oct 5, 2019
Corso individuale
Ich wurde in der Schule sehr freundlich empfangen, mein Kurs wurde sehr abwechslungsreich gestaltet mit Video, Texte lesen und Conversazione. Meine Lehrerinnen waren sehr bemüht, sind auf meine Bedürfnisse eingegangen und haben meine Fragen ausreichend beantwortet.
Die Schule liegt sehr zentral, im Gebäude befindet sich ein Caffè/Getränkeautomat, gegenüber eine Bar. Das Schreibmaterial wird von der Schule zur Verfügung gestellt, die Preise für die Sprachkurse sind äußerst moderat.
Ich kann NaClips nur weiterempfehlen, ich werde bald wieder einen Kurs buchen.
Sep 20, 2019
Thank you very much for having me here
I came to Na.CLIPS to meet Rita as a colleague. I am also a teacher - I teach Lithuanian language for foreign students. I wanted to learn how courses are organized, what kind of methods are used etc. I've had a very interesting presentation about it including information about Napoli, its culture and its sights. I've learned that Rita is a highly-professional teacher with a lot of experience in teaching different people. She is enthusiastic, creative and a very pleasant person. Rita and Gianluca showed me Naples', offered me delicious Italian food and told me some interesting stories about it. Thank you very much for having me here and sharing good practice. Grazie mille a voi! I wholeheartedly recommend Na.CLIPS for learning Italian and experiencing Italian culture.
Sep 10, 2019
One2one
I recently had a week of one2one 2 hour sessions with Rita. I had been part of fairly large group class before, which was fun but didn't allow for bad habits to be corrected, habits that were becoming more deeply ingrained. Rita took me back to basics to correct these yet was incredibly encouraging and helped me develop with complex vocabulary. I felt, and friends commented that my Italian really improved in just a week. And I felt more confident to speak. It was absolutely perfect the way Rita tailored the sessions for me. Thank you - I am very grateful and highly recommend NaClips.
Grazie!
Sep 4, 2019
Recomendo a todos
Sì, certo che raccomando Na.Clips! Dall'inizio alla fine mia esperienza è stata strepitosa. Especialmente l'attenzione di Mario, sempre cercando di portare qualcosa di nuovo alle lezioni, merita un voto in più alla qualità del corso!
Grazie Rita e Mario!
Recomendo a todos que tiverem interesse em conhecer um curso de qualidade, em excelente localização numa cidade com beleza e história sem dúvida singulares!
Sep 4, 2019
Uma cidade linda de dia e de noite
Estive no mês de agosto nessa escola maravilhosa, encontrei professores de um profissionalismo impressionante. Depois de 45 dias na Bella Itália 🇮🇹, saio do país com uma grande alegria no coração e uma língua a mais na minha vida.
E você que está pensando em vir a Itália, venha Nápoles, uma cidade maravilhosa com tanta cultura, gastronomia, praias.. Uma cidade linda de dia e de noite. Eu recomendo a escola Naclips com os olhos fechados.
Passei dias maravilhosos de ensino, entre um café e outro, muitas risadas e bastante aprendizado.
Obrigado a Rita, Gianluca e toda equipe de lá escola NA Clips.
Aug 16, 2019
I really reccomend Naclips
하루 2시간씩 2주 개인 수업을 리타와 했었어요.
이태리어에 관심을 갖게되어 여름 휴가겸 나폴리에서 체류하며 배웠는데 가격도 나쁘지 않고,
설명도 발음법도 자세하게 알려주고 분위기도 좋습니다. 만약 이태리어를 배우신다면 나폴리의 NaCLIPS를 추천해요. 나폴리의 피자와 커피 그리고 남부 해안도시들(아말피 해안) 방문등 타 도시보다 꼭 나폴리에서의 경험을 정말 정말 추천드립니다.
I did private lessons from 2weeks.
My classes were with Rita.
She is really helped me. She is an excellent teacher.
If you're looking to learn Italian, I REALLY RECOMMEND NaCLIPS in NAPOLI!!!👍🏻
"Vedi Napoli e poi muori"
May 11, 2019
Les meilleurs cours de langue
J'ai pris des cours avec NaClips pendant presque 8 mois, en commençant par des cours en groupe (2 personnes) puis individuels. Je suis très satisfaite du niveau d'italien que j'ai pu acquérir grâce à NaClips. En cours, on travaille toutes les compétences : lecture, oral, écrit ... Les profs Rita et Mario sont vraiment géniaux, compétents et patients et les cours se font toujours dans la bonne humeur ! Un autre atout de NaClips qui la différencie selon moi de beaucoup d'écoles est l'organisation d'activités en dehors des cours : cours de cuisine, visites guidées, pique-nique... auxquelles vous pourrez participer en vous inscrivant dans cette école. Ces activités permettent de partager des expériences avec d'autres étudiants de l'école, en plus d'apprendre l'italien d'une façon plus ludique ! Les cours que j'ai pu suivre à NaClips sont sans doutes parmi les meilleurs cours de langue que j'ai jamais eu, c'est pourquoi je recommande vivement cette école, idéale pour apprendre l'italien à Naples ! Grazie NaCLIPS!
Mar 14, 2019
Individual Lessons with Mario
I had 10 individual lessons with Mario, from January 8th to February 8th of this year. I had been trying to learn Italian "on the street" for a while, but I found this to be a challenge in Naples, and I felt I wasn't improving. Right from the first lesson, Mario encouraged me to speak in real conversations in Italian. He was incredibly patient and provided me with grammar practice to correct mistakes I was making. Mario was highly professional and really got me thinking and speaking in Italian. As a result of these lessons I feel I have greatly improved my conversational skills and this has given me much greater confidence to communicate in Italian. If you want to learn Italian, I highly recommend NaClips.
Mar 3, 2019
Group class
I really recommend it! I took part in group class, it was so good. The group was small - 5 people, teachers - Rita, Mario - are polite, kind and patient. Atmosphere was so friendly and lessons were interesting. If you are thinking about learning italian you should definitely try with Naclips:)
Feb 26, 2019
Excelente ubicación
Totalmente recomendable. llegue a vivir a Napoli hace 4 meses y gracias a Na. CLIPS pude aprender y comprender mucho mejor el italiano. profesores a la altura, buena infraestructura, excelente ubicación.
saludos
Feb 12, 2019
My pronunciation!
did private lessons for 2 hours a day from January 3-January 18. Most of my classes were with Rita. She is an engaging instructor and really helped me improve my pronunciation and spoken Italian skills. I've spent about 6 months at other Italian language schools doing intensive language training over the course of the last 6 years and had very positive experiences at the other schools I attended. I can say that Na.Clips is equal to those schools in the experience I had in general, but Rita's attention to detail with my pronunciation stood out compared to those other experiences. She is an excellent instructor and I cannot recommend her enough. Aside from the school, I absolutely fell in love with Napoli and did a walking food tour through the school with Gianlucca that my friend and I absolutely loved. If you're looking to learn Italian in a beautiful city, pick Na.CLIPS; you won't be disappointed.
Jan 4, 2019
Grandeee
E'stata una bellaa èsperienza. Una buona scuola per imparare l'italiano. Grazie mille a tutti e un ringraziemento speciale a Rita . GRANDE NA.CLIPS
Dec 10, 2018
Great experience
Rita was an excellent instructor and very capable of meeting my individual needs. I would highly recommend Na.CLIPS to anyone in the Naples area to improve their Italian language skills and maybe even pick up some authentic Neapolitan! I look forward to returning again soon and continuing my studies! Thank you for a great individualised experience!
Nov 21, 2018
Daily Skype Lessons
I can't thank Mario and Rita enough for their time and attention - I took 92 hours of 1 on 1 classes with them, and still take daily Skype lessons with them as I now live in Modena. I highly recommend NaCLIPS to anyone wanting to learn about Italian language and culture - I really feel like I've gained a new family and two awesome friends!
In the three months of 1 on 1 lessons, I was surprised and delighted to see how much my Italian had improved and passed my A1 and A2 language levels!
If you are planing on spending time in Naples or not - NaCLIPS is by far, the best Italian language school I've attended and couldn't be happier with my results!
Grazie Mille Mario e Rita!!!