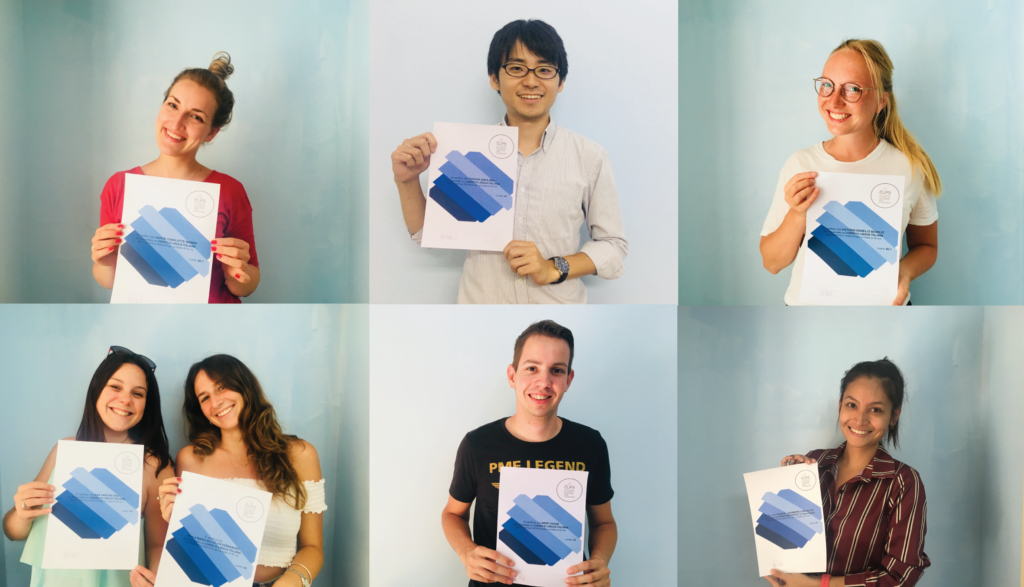 NaClips
Average rating:
48 reviews
Jun 16, 2020
Wonderful!
Wonderful school with wonderful teacher! Everyone is very professional and caring. I'll be back!
Apr 1, 2020
Best place to learn Italian!
Best place to learn Italian! Here you can really find not only knowledge, but also friends. I want to say a big thank you to this school!
At first I took a group course, where we immediately began to speak Italian. The learning atmosphere was incredible. Gabriela and Enrico are excellent teachers, it is really important for them that you understand and learn everything, thank you guys very much! Classes were very fun and interactive, and most importantly, by the end of two weeks I had already ceased to be shy to speak. Also at school, they are ready to help you in any situation, I was allowed to change the format of my course and added individual lessons. Thank you very much Rita for understanding and kindness. I was also very lucky with the people in the group, so I liked the group classes very much! Further, due to changes in Italy and the closure of public places, I continued individual lessons on skype. It was one of the best parts of quarantine! Thank you very much Mario for the individual approach and knowledge that I received. I hope that I can return to classes soon.
Jan 23, 2020
Danke NaCLIPS!
Ich war eine Woche bei NaCLIPS für Individualstunden. Besonders geschätzt habe ich den lockeren & fast schon freundschaftlichen Umgang zwischen Lehrern und Schülern. Der Fokus bei NaCLIPS liegt weniger auf Unterricht nach Schulbuch, sondern eher auf praktischer Anwendung. Dadurch spricht man sehr viel und setzt sich auf natürliche Art und Weise mit der Sprache auseinander. Wer Unterricht nach Schulbuch sucht ist hier eher falsch. Neben dem Unterricht haben wir auch eine Stadttour gemacht und sind einen Abend Pizza essen gegangen. Ich hatte eine wirklich tolle und kurzweilige Woche in Napoli. Das Preis-Leistung Verhältnis ist übrigens 1a. Danke NaCLIPS
Jan 20, 2020
Great Pleasure!
I have just finished my tenth and last Italian skype lesson with Rita. It's been a great pleasure and she's taught me a lot. I'll meet her again at NaClips in Napoli for three weeks this coming summer. In the meantime it's time for me to go back to my Italian studies in Lund starting next week.
Jan 20, 2020
corso intensivo
Grazie Rita e Gabriela!
Ik heb 1 week les gehad in de maand november van Gabriela. Helaas was het weer slecht, maar de cursus was geslaagd.
De communicatie met Rita vooraf was heel goed.
Jan 20, 2020
Tirocinio
Ciao! Mi chiamo Marianna e sono una studentessa in Lingua e Cultura Italiana per Stranieri presso L'Orientale di Napoli. Dopo un'accurata ricerca di scuole di italiano per stranieri dove poter svolgere l'attività di tirocinio, la mia scelta é ricaduta su quest'accademia poiché mi é sembrata sin da subito molto idonea e conforme al mio percorso di studi. Per circa un mese ho avuto l'occasione di assistere a lezioni di italiano per apprendenti stranieri, in cui ho avuto modo di vedere le diverse metodologie d'insegnamento degli insegnanti di Naclips. La responsabile Rita, insieme al suo team sono stati molto gentili e disponibili nell'accogliermi e a rendermi partecipe a tutte le loro iniziative. Posso dire che questa esperienza ha soddisfatto tutte le mie aspettative, anzi ha accentuato ancora di più il mio grande desiderio di diventare una futura insegnante di italiano per stranieri.
Nov 24, 2019
What a great experience!
I had the opportunity to stay in Naples with my wife who was doing a month-long Dermatology fellowship in the city. I found NaCLIPS over the internet after my first week and was one of the best decisions I made during my trip. I allowed me to take almost daily lessons with Rita who is an engaging and knowledgeable teacher, and quickly adjusted the course to my needs. Also, NaCLIPS makes the extra effort to offer extra activities on Italian culture which is a great chance to experience Italy in different ways and meet other students from very interesting paths of life. I highly recommend NaCLIPS and I am grateful for everything I learned so far. I will definitely continue with my studies over Skype.
Oct 22, 2019
Corso privato
Een week privé les gehad van Anna bij NaClips! Het was ontzettend zinvol, professioneel & ook nog gezellig. Met Anna voelde het alsof ik les had van een vriendin. Ik voelde mij zeer op mijn gemak!

Una settimana lezioni privati con Anna era un grande successo! Anna era e molto gentile e professionale.

Grazie mille Rita e anche Anna! Speriamo ci vediamo presto.
Oct 5, 2019
Corso individuale
Ich wurde in der Schule sehr freundlich empfangen, mein Kurs wurde sehr abwechslungsreich gestaltet mit Video, Texte lesen und Conversazione. Meine Lehrerinnen waren sehr bemüht, sind auf meine Bedürfnisse eingegangen und haben meine Fragen ausreichend beantwortet.
Die Schule liegt sehr zentral, im Gebäude befindet sich ein Caffè/Getränkeautomat, gegenüber eine Bar. Das Schreibmaterial wird von der Schule zur Verfügung gestellt, die Preise für die Sprachkurse sind äußerst moderat.
Ich kann NaClips nur weiterempfehlen, ich werde bald wieder einen Kurs buchen.
Sep 20, 2019
Thank you very much for having me here
I came to Na.CLIPS to meet Rita as a colleague. I am also a teacher - I teach Lithuanian language for foreign students. I wanted to learn how courses are organized, what kind of methods are used etc. I've had a very interesting presentation about it including information about Napoli, its culture and its sights. I've learned that Rita is a highly-professional teacher with a lot of experience in teaching different people. She is enthusiastic, creative and a very pleasant person. Rita and Gianluca showed me Naples', offered me delicious Italian food and told me some interesting stories about it. Thank you very much for having me here and sharing good practice. Grazie mille a voi! I wholeheartedly recommend Na.CLIPS for learning Italian and experiencing Italian culture.
Sep 10, 2019
One2one
I recently had a week of one2one 2 hour sessions with Rita. I had been part of fairly large group class before, which was fun but didn't allow for bad habits to be corrected, habits that were becoming more deeply ingrained. Rita took me back to basics to correct these yet was incredibly encouraging and helped me develop with complex vocabulary. I felt, and friends commented that my Italian really improved in just a week. And I felt more confident to speak. It was absolutely perfect the way Rita tailored the sessions for me. Thank you - I am very grateful and highly recommend NaClips.
Grazie!
Sep 4, 2019
Recomendo a todos
Sì, certo che raccomando Na.Clips! Dall'inizio alla fine mia esperienza è stata strepitosa. Especialmente l'attenzione di Mario, sempre cercando di portare qualcosa di nuovo alle lezioni, merita un voto in più alla qualità del corso!
Grazie Rita e Mario!
Recomendo a todos que tiverem interesse em conhecer um curso de qualidade, em excelente localização numa cidade com beleza e história sem dúvida singulares!
Sep 4, 2019
Uma cidade linda de dia e de noite
Estive no mês de agosto nessa escola maravilhosa, encontrei professores de um profissionalismo impressionante. Depois de 45 dias na Bella Itália 🇮🇹, saio do país com uma grande alegria no coração e uma língua a mais na minha vida.
E você que está pensando em vir a Itália, venha Nápoles, uma cidade maravilhosa com tanta cultura, gastronomia, praias.. Uma cidade linda de dia e de noite. Eu recomendo a escola Naclips com os olhos fechados.
Passei dias maravilhosos de ensino, entre um café e outro, muitas risadas e bastante aprendizado.
Obrigado a Rita, Gianluca e toda equipe de lá escola NA Clips.
Aug 16, 2019
I really reccomend Naclips
하루 2시간씩 2주 개인 수업을 리타와 했었어요.
이태리어에 관심을 갖게되어 여름 휴가겸 나폴리에서 체류하며 배웠는데 가격도 나쁘지 않고,
설명도 발음법도 자세하게 알려주고 분위기도 좋습니다. 만약 이태리어를 배우신다면 나폴리의 NaCLIPS를 추천해요. 나폴리의 피자와 커피 그리고 남부 해안도시들(아말피 해안) 방문등 타 도시보다 꼭 나폴리에서의 경험을 정말 정말 추천드립니다.
I did private lessons from 2weeks.
My classes were with Rita.
She is really helped me. She is an excellent teacher.
If you're looking to learn Italian, I REALLY RECOMMEND NaCLIPS in NAPOLI!!!👍🏻
"Vedi Napoli e poi muori"
May 11, 2019
Les meilleurs cours de langue
J'ai pris des cours avec NaClips pendant presque 8 mois, en commençant par des cours en groupe (2 personnes) puis individuels. Je suis très satisfaite du niveau d'italien que j'ai pu acquérir grâce à NaClips. En cours, on travaille toutes les compétences : lecture, oral, écrit ... Les profs Rita et Mario sont vraiment géniaux, compétents et patients et les cours se font toujours dans la bonne humeur ! Un autre atout de NaClips qui la différencie selon moi de beaucoup d'écoles est l'organisation d'activités en dehors des cours : cours de cuisine, visites guidées, pique-nique... auxquelles vous pourrez participer en vous inscrivant dans cette école. Ces activités permettent de partager des expériences avec d'autres étudiants de l'école, en plus d'apprendre l'italien d'une façon plus ludique ! Les cours que j'ai pu suivre à NaClips sont sans doutes parmi les meilleurs cours de langue que j'ai jamais eu, c'est pourquoi je recommande vivement cette école, idéale pour apprendre l'italien à Naples ! Grazie NaCLIPS!