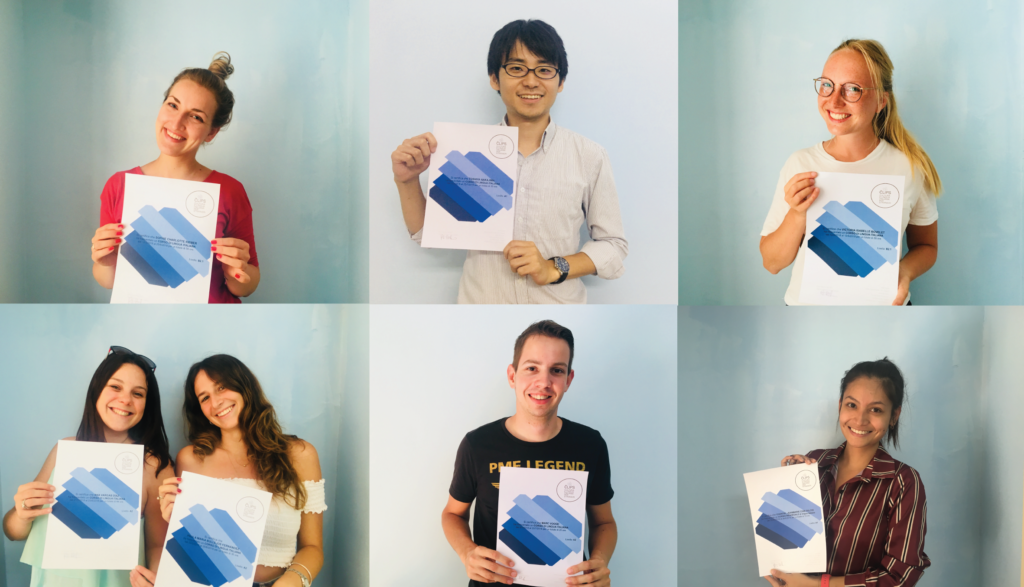 Excellent school
★ ★ ★ ★ ★
"
I attended the four-monthly course of NaClips and I can really recommend this new and excellent school! It is taught with great quality and at a high level. In this short time I managed to improve my Italian on two levels. For all foreigners who not only want to master the Italian language quickly but correctly NaClips is a great possibility!
"
Thanks a lot!
★ ★ ★ ★ ★
"
For the past 2 weeks I have been following an individual course (2 hours a day) at Naclips and the course was really good. Starting with little knowledge from the italian language I have been able to learn a lot in 2. Some things, the clear explanations, and the atmosphere are fun. I know thanks a lot!
"
Great pleasure
★ ★ ★ ★ ★
"
Dear Rita, thank you very much for everything I learned from you about the Italian language, about Neapolitan culture and especially about our wonderful city. It was a great pleasure for me and I miss our lessons together so much. To everyone who did not meet Rita so far - I deeply recommend to learn about the Italian language and the beautiful city of Naples from her. Not that she is really funny, she is also an extremely talented teacher who knows how to explain all the difficulties of the Italien language!
"
Ottimo
★ ★ ★ ★ ★
"
A perfect school with perffeta and my favorite Rita insinant. I really like school and how you speak, write or think of Italian. This year is my first year at school but I will return. Very professional, serious ... but also with a lot of heart. A big "like".
"
sociable
★ ★ ★ ★ ★
"
The lessons are very casual and interesting!
"
Voor Rita
★ ★ ★ ★ ★
"
Skype-lessen met Rita zijn geweldig. Ze combineert grammar, woordenschat en conversatie in één uur, dat omvliegt. Ze prijst mijn sterke (nu ja ..) punten en werkt aan mijn zwakke. (Because I always make the same mistakes). Dank je Rita voor je geduld. You are fantastic.
"
Fantastic!
★ ★ ★ ★ ★
"
Feel like learning Italian? Go to NaClips! Rita starts the very first lesson directly in Italian, and you'll notice how fast you'll understand and learn to speak Italian. I really enjoy my individual skype lessons, which combine attention for grammar, fluency and vocabulary. And above all, Rita always adds a lot of positive energy to the lessons! Learning Italian with NaClips is interesting and fun! *********************** Zin om Italiaans te leren? Ga naar NaClips! In the einste les is de voertaal Italiaans, en je merkt gelijk hoe snel je het Italiaans gaat begrijpen en ook spreken. Ik volg nog altijd met veel plezier skype-lessen (individueel), waarin aandacht is voor grammatica, spreken en vocabulaire. En -niet onbelangrijk- Rita zorgt altijd voor veel positieve energies in de les! Italiaans leren bij NaClips is interessant en leuk!
"
Great teachers ... great school!
★ ★ ★ ★ ★
"
I've had 40 hours private lessons in 3 weeks with Rita and Mario in NaCLIPS. Lessons are focused on speaking. I was familiar with Naples and Napolitanians very quickly with the support of my teachers which was beyond my expectations before going there. It was a great experience and I'm planning to repeat it asap! *********************** I had 40 hours of private lessons in 3 weeks with Rita and Mario at NaCLIPS. The lessons focus on speaking the Italian language from the first moment and this made me trust to talk outside the class with the local people. I became very familiar with Naples and the Neapolitans with the support of my teachers, and I did not wait until I went there. It was a great experience, I'm going to repeat as soon as possible!
"
Thank you very much!
★ ★ ★ ★ ★
"
It's been almost a month for my first lesson. I was very bad in the Italian language, but now thanks to my teacher Mario I'm better in Italian. Thank you so much Mario. I never forget these hours that I spent with you. Thanks again Mario.
"
Super école
★ ★ ★ ★ ★
"
Merci Rita et Mario pour vos qualités d'enseignement. Deux semaines de cours privés m'ont beaucoup fait avancer en italien et vos connaissances et passions pour cette magnifique ville et région Napolitaine sont communicatives. Un très beau séjour enrichissant. Je ne peux que recommander chaleureusement votre école pour tout ce que vous savez donner. J'espère vous revoir the possible screw. A grand goods du fond du cœur.
"
Thank you Rita and Mario !!!
★ ★ ★ ★ ★
"
Mario and Rita enough for their time and attention - I took 92 hours of 1 on 1 classes with them, and still take daily Skype lessons with them as I now live in Modena. I highly recommend NaCLIPS to anyone wanting to learn about Italian language and culture - I really feel like I've gained a new family and two awesome friends! In the three months of 1 on 1 lessons, I was surprised and enjoyed my experience and my A1 and A2 language levels! If you are planing on spending time in Naples or not - NaCLIPS is by far, the best Italian language school I've attended and could not be happier with my results! Thanks Mille Mario and Rita !!!
"
Excellent individualized learning!
★ ★ ★ ★ ★
"
Rita was an excellent instructor and very capable of meeting my individual needs. I would highly recommend Na.CLIPS - Italian Language and Culture for Foreigners to anyone in the Naples area to improve their Italian language skills and maybe even pick up some authentic Neapolitan! I look forward to returning again soon and continuing my studies! Thank you for a great individualized experience!
"
Excellent
★ ★ ★ ★ ★
"
I did private lessons for 2 hours a day from January 3-January 18. Most of my classes were with Rita. Improve my pronunciation and speak Italian skills. I have spent about 6 months at other Italian language schools I can say that I can say that I can not say that I was in general, but She is an excellent instructor and I can not recommend her enough. Aside from the school, I absolutely fell in love with Naples and I went to a walking food tour through the school with Gianlucca that my friend and I absolutely loved. If you're looking to learn Italian in a beautiful city, pick Na.CLIPS; you will not be disappointed.
"
Enjoyable
★ ★ ★ ★ ★
"
I thoroughly enjoyable my individual lessons with Rita. I wanted to achieve my goals in a short amount of time
"
Great experience!
★ ★ ★ ★ ★
"
I had an intensive 1 week course. Everything worked well. The lessons were good and very informative. Otherwise the teaching is personally very nice and useful. I can continue to recommend the school. And I'll be back. See you soon!
"
Highly recommended!
★ ★ ★ ★ ★
"
I really recommend it! I took part in group class, it was so good. The group was small - 5 people, teachers - Rita, Mario - are polite, kind and patient. Atmosphere was so friendly and lessons were interesting. If you are thinking about learning you should definitely try with Naclips :)
"
Excellent!
★ ★ ★ ★ ★
"
Totally recomendable. llegue to vivir in Naples hace 4 meses y gracias to NaCLIPS pude aprender y comprender mucho mejor el Italian. profesores a la height, good infraestructura, excelente ubicación.
"
5

out of

5

udgangspunkt

17

reviews.
Overall rating: